Here's a bright idea!
Take your students to the computer lab to create and label a diagram in PowerPoint. It's a fun and engaging project for 3rd, 4th, and 5th graders!
Start this activity by having students choose an animal. It's best if students have some prior knowledge about the animal they select. I had my students choose an animal that's a pet.
Students can use Microsoft Clip Art to find an image of their chosen animal. Another good source for images is
pics4learning.com/
. It's a free image library for educational use.
Now it's time to think of labels for the animal. I had my students think of four or five labels. Labels could include body parts, colors, and body coverings (fur, scales, etc.).
Students can chose a plain line or an arrow to draw from their text box to the image. There are also some fun, funky arrows to choose from.
Changing the line's color and width makes it really stand out.
Students love to experiment with the different options!
Take it a step further and have students add some color and style to make the text boxes pop.
Students could also change the font of the title and text boxes.
Here are some of my students working on labeling their animals:
Here are a few of my students' finished products:
This project was completed in a 45 minute class session (includes teaching time and working time). Next time we'll add some design to the text boxes and change the font.
My students loved this project! Labeling a diagram in PowerPoint could be taught alone or conjunction with a longer research project or report. I hope you enjoyed this Bright Idea for the computer lab.
Next up on the blog hop is Erin from
Creating & Teaching
. She's going to teach you a creative way to line up your class! Just click on the button below to see her post.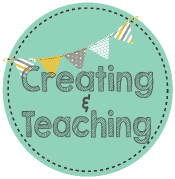 You can also search by topic using the link-up below and move along to any other blog on the blog hop!